Landscape Design Workshop for the Homeowner- 2 Day Workshop
January 15 @ 9:00 am

-

3:00 pm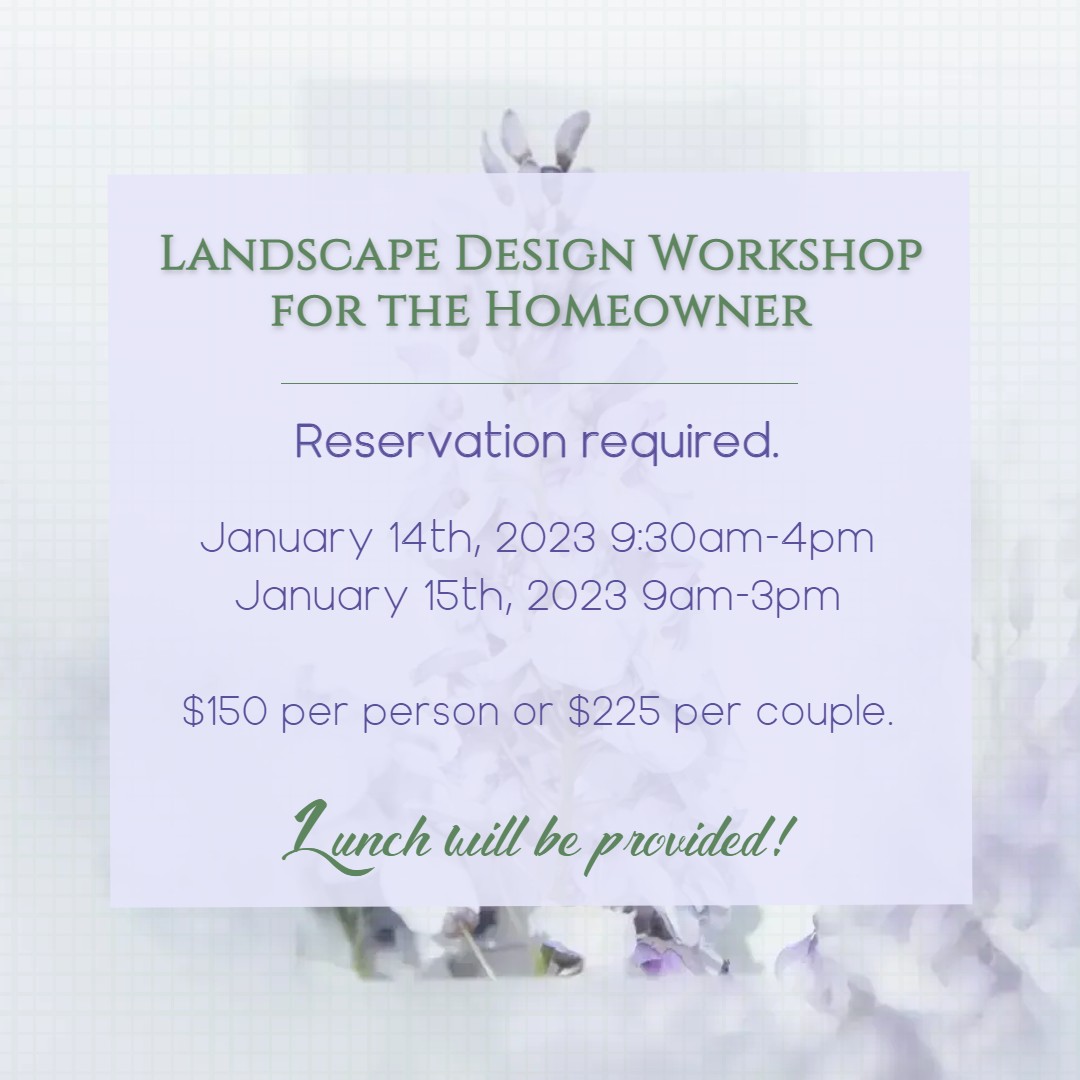 This workshop will provide you with the tools, resources, and instructions you will use to hand draw your own landscape design.
Instructor:           David Ruf, Owner, Greenhouse Garden Center
Dates:                January 14th & 15th with Session 5 by appointment only.
Time:                 9:30am-4pm (January 14th, Sessions 1 & 2)
10am-3pm (January 15th, Sessions 3 & 4)
Cost:                 $150.00/person or $225.00/per couple
RESERVATIONS ARE REQUIRED
Please call or come into Greenhouse Garden Center to sign up and pay for the workshop. Payment must be made in advance of the workshop.
(Class size is limited to 18 people)
The WOW: Each attendee attending the workshop will receive 15% off any landscape plants purchased during the 2023 season.
Lunch will be provided on both Saturday and Sunday (January 14 & 15, 2023).
All classroom materials will be provided.
Session 1: Saturday, January 14, 9:30am to 12pm
This session will start with helping the homeowner make some landscape design decisions. Discussion of garden styles, home architecture and existing landscape considerations specific to the individual homeowners lifestyle to include color and general likes and dislikes. We will talk about site location, exposure, slopes, grading and drainage issues as well as irrigation and electrical requirements.
Lunch Break:     12:00pm to 12:45pm
Session 2: January 14, 12:45pm to 4pm
This session with start with lawn and plant requirements. We will discuss amendments, fertilizers, plant care and watering issues. Hardscapes including patios, driveways ponds and walkways using pavers, concrete, gravel or decomposed granite (DG) will be discussed. We will have a tour to look at mature trees and evergreens for shape, color and texture. (Bring a coat, it might be cold)
Homework will be to make a plot plan of ones own property or area for the next day.
Session 3: Sunday, January 15, 10am to 12:00pm
During this session we will discuss layering of plant material in your landscape. We will look at possible plant choices and review the homeowners plot plan.
Lunch Break: 12:00pm to 12:45pm
Session 4: January 15, 12:45pm to 3:00pm
This session will include individual instruction to help the homeowner draw the plant material onto their plot plan. Determine which trees and shrubs will be evergreen or deciduous, the use of perennials, annuals, bulb beds along with a vegetable garden area if desired.
Session 5: By Appointment
The final session will be devoted to a review of the homeowner's personal landscape design and to review plant selection with David or one of your favorite staff members for a complete wrap up.